Bryan Kelly
Electric and Acoustic Guitars, Backing vocals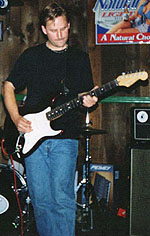 Bryan Kelly, former guitar player for the Olives and the Cause, 
now plays guitar for almost Now.  
He has been playing since the mid eighties but started out playing sax in junior high school.
He still occasionally plays sax but now concentrates mainly on guitar.  
He has been influenced by the usual rock god guitar players; Jimi, Gilmour, Eddie, Jimmie, Stevie, 
but also enjoys more song based and experimental bands like XTC, Jeff Buckley, and Beck.  
He doesn't enjoy long walks in the park, small furry creatures (unless they taste good) 
or bitchy people.  
He does like Hostess cupcakes, flying airplanes, singing in the car, 
and of course jamming with the best rhythm section on the seacoast.

Bryan's Groupies

© 2001 almost Now